Dining table LILLI
Regular price

2.800,00€

inkl. MwSt.

Sale price

2.800,00€

inkl. MwSt.
At your home in 3 months
Free shipping from 50€ (DE/AT)
Eye catching design
Handmade in Germany
 description
Our LILLI dining table loves a clear statement! Because the table impresses with its simple form and its specific lines. The rectangular tabletop made of oak wood stands on two solid concrete table legs. Finished! When you see LILLI, you know immediately that this is a dining table that, thanks to its simplicity and robustness, is reliable furniture. The concrete is sealed and thus optimally protected against stains. And it can also be made non-porous. The rectangular table top made of oiled oak offers you and your family plenty of space. Here you can comfortably sit, dine, talk and just have a good time without being cramped. If the dimensions of the dining table are not enough for you, the material of the table legs or the color of the concrete is changed, that's no problem. After all, our furniture should inspire you and maybe even be a purchase for life.
Are you still unsure Then üü Convince yourself with our

 

CONCRETE PATTERN

.
Note: this item is not prefabricated and will only be made for you after your order has been received.
product info
materials
Table top wood: high-quality solid oak wood, oiled

Table legs: high-strength, fine-pored design concrete

surface sealed
product details
Dimensions (L x W x H): 300cm x 120cm x 75cm
Weight per piece: 300kg
Dimensions (L x W x H): 250cm x 110cm x 75cm
Weight per piece: 240kg
Dimensions (L x W x H): 220cm x 100cm x 75cm
Weight per piece: 200kg
Dimensions (L x W x H): 200cm x 90cm x 75cm
Weight per piece: 180 kg
Dimensions (L x W x H): 180cm x 80cm x 75cm
Weight per piece: 150 kg
Dimensions (L x W x H): 160cm x 70cm x 75cm
Weight per piece: 120 kg
scope of delivery
Dining table LILLI

Delivery: by freight forwarder free curbside
FAQs - frequently asked questionsn

Leaves water or dirt stains on the concrete?
We seal the surface of the concrete so that it is dirt and water repellent. This allows you to easily wipe the surface and the surface will remain stain-free.
How is the table delivered??
The table will be safely delivered curbside to your front door with our partner forwarding agency.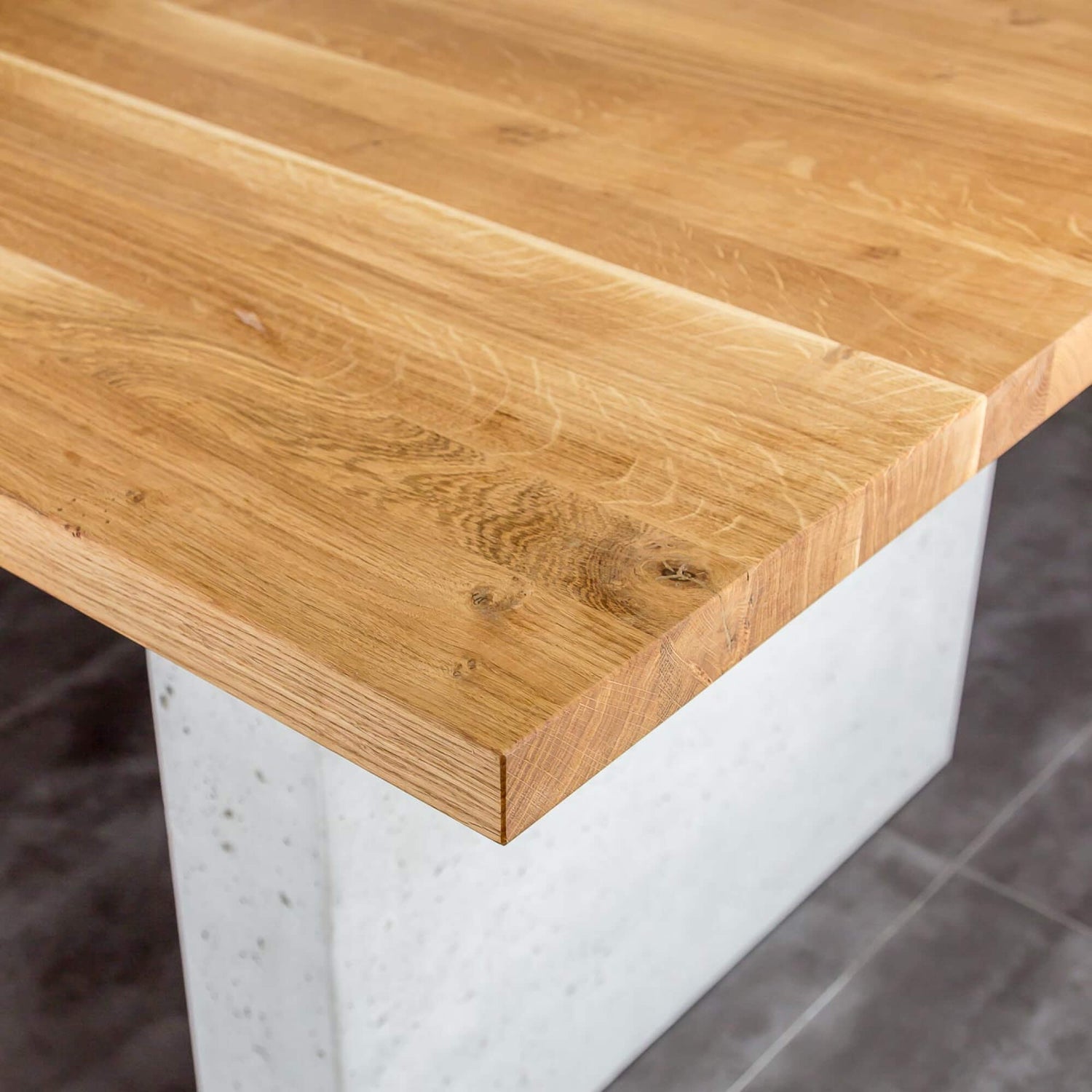 Clean lines and simplicity
LILLI is simple and impresses with its clear lines. The rectangular design with the solid concrete table legs and the oiled oak table top create a timeless and classic appearance. This gives you a table that is not only practical, but also a real eye-catcher in the dining room.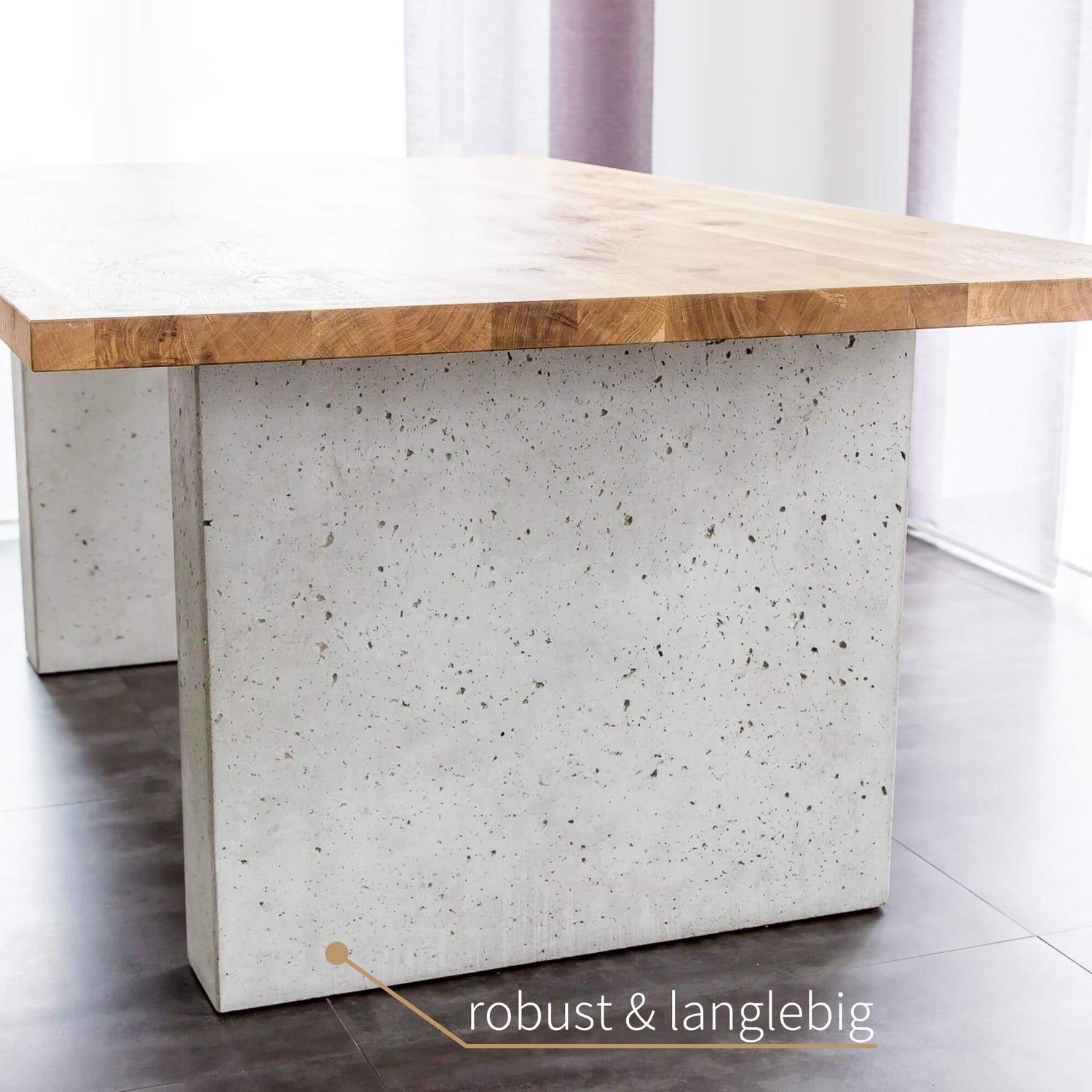 Robust construction
Our dining table LILLI is robust and durable. The rectangular table top made of oak wood and the solid concrete table legs guarantee a long service life. In addition, the concrete is sealed to provide the best possible protection against stains. With LILLI you have a table that you can always rely on.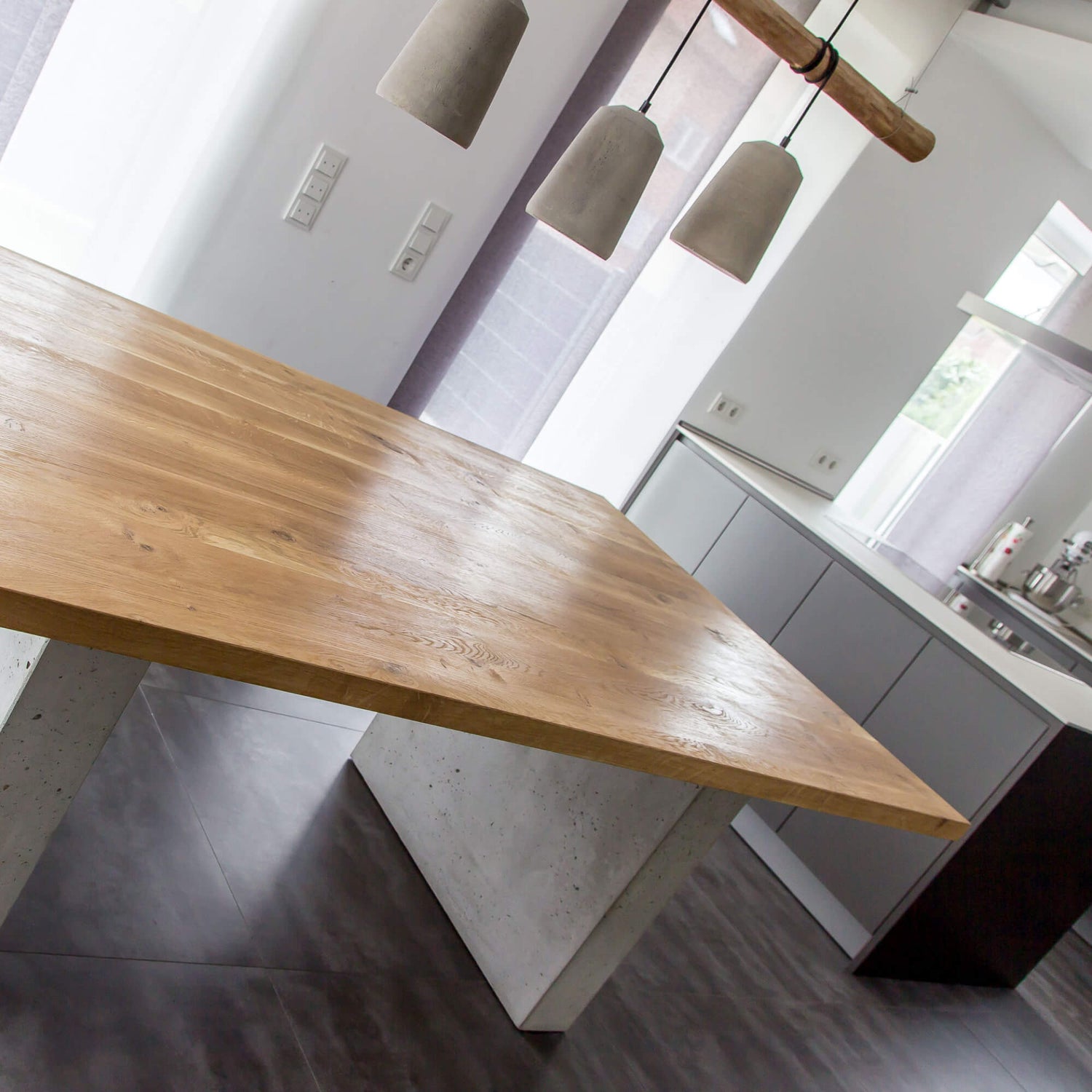 Tailor-made and individual
LILLI can be completely adapted to your needs and wishes. If the size of the table is not sufficient, we can change it for you. The material of the table legs and the concrete color can also be selected according to your ideas. With LILLI you get a table that really meets your expectations.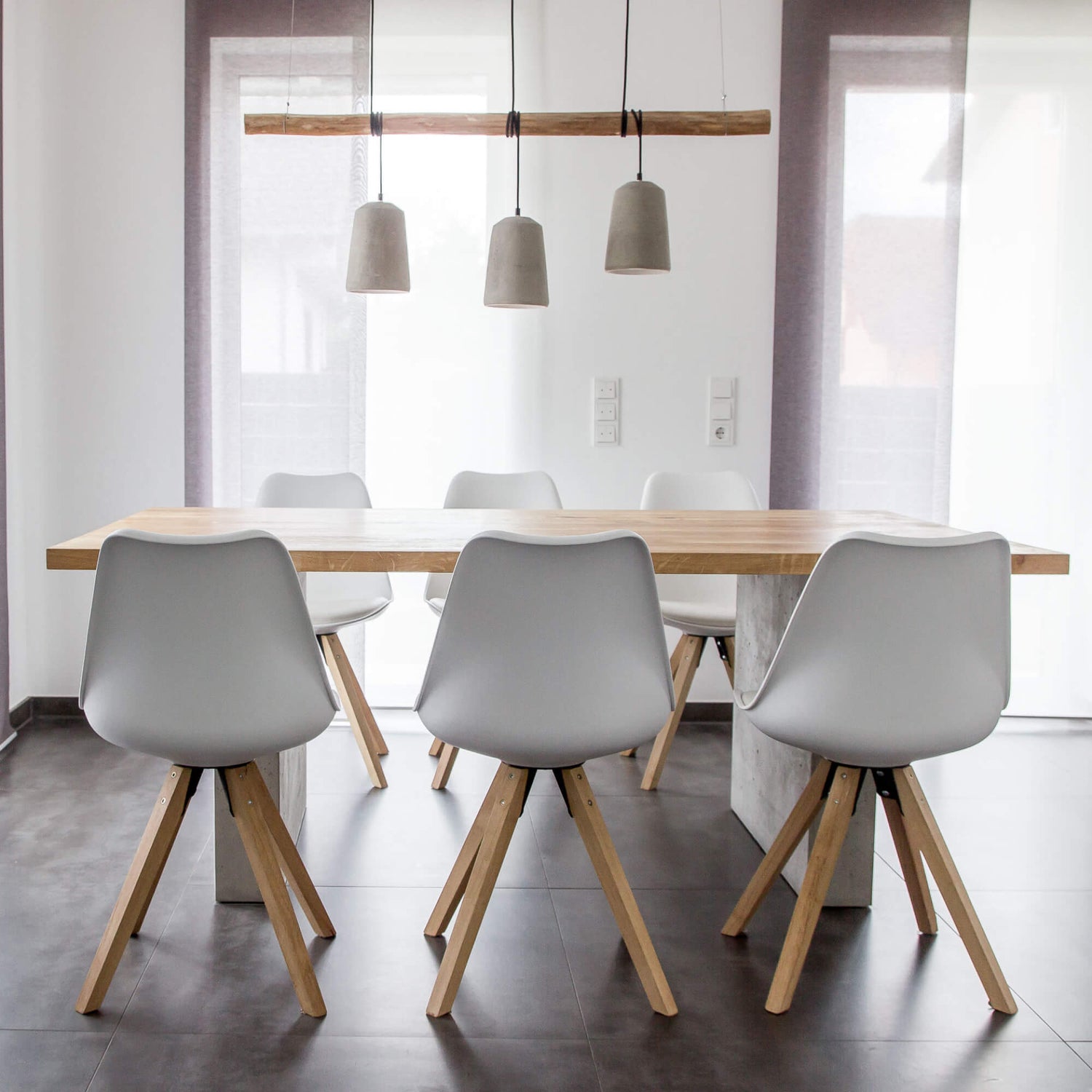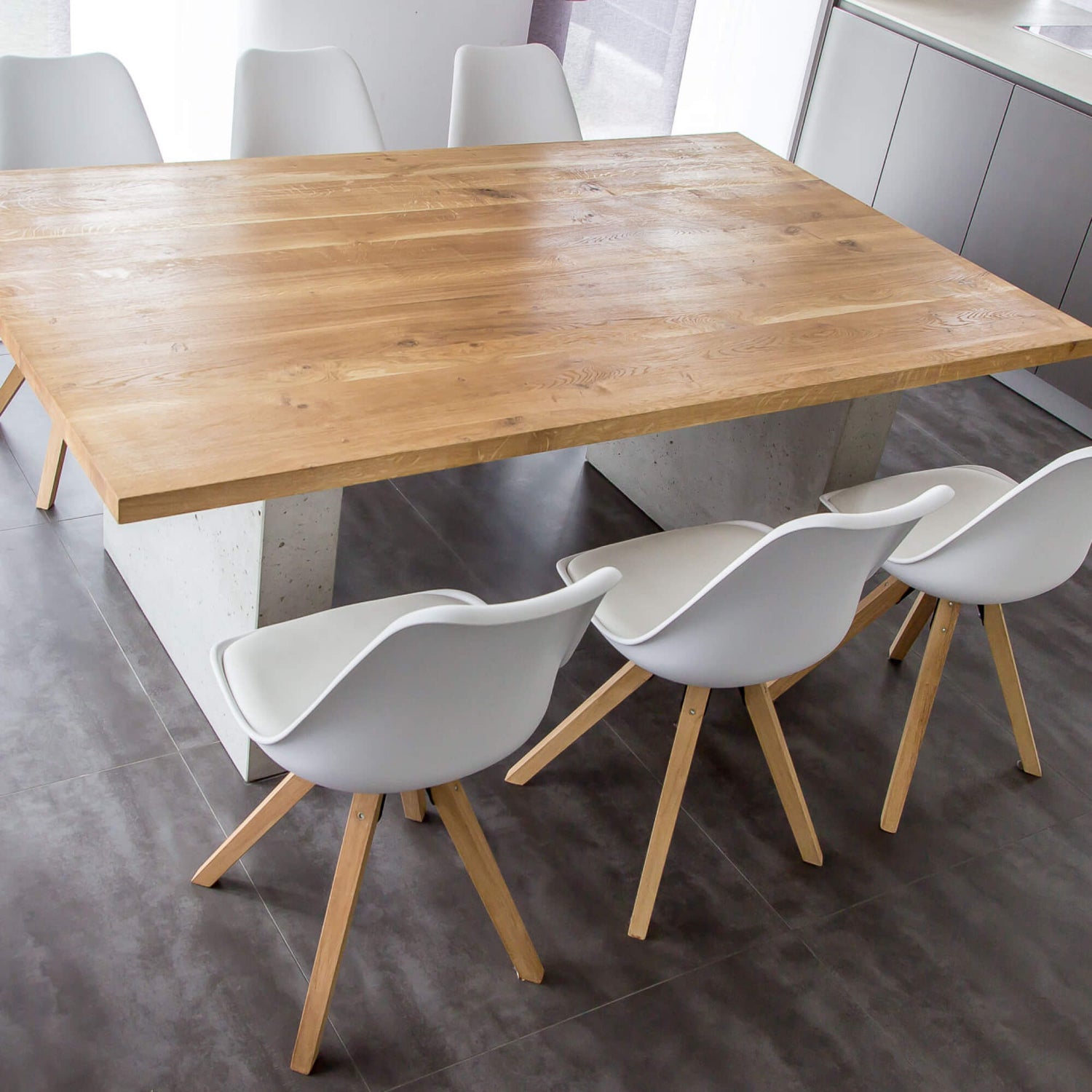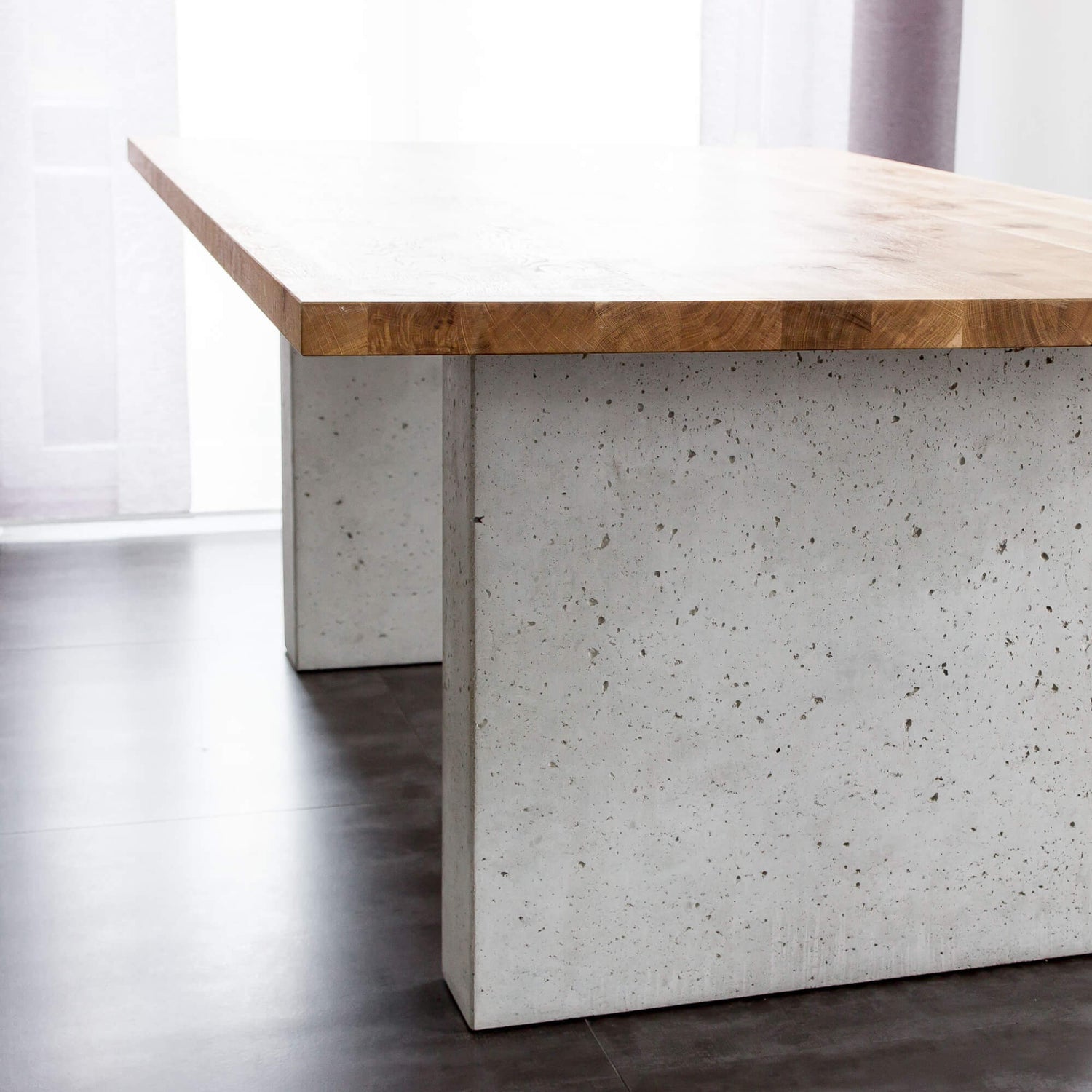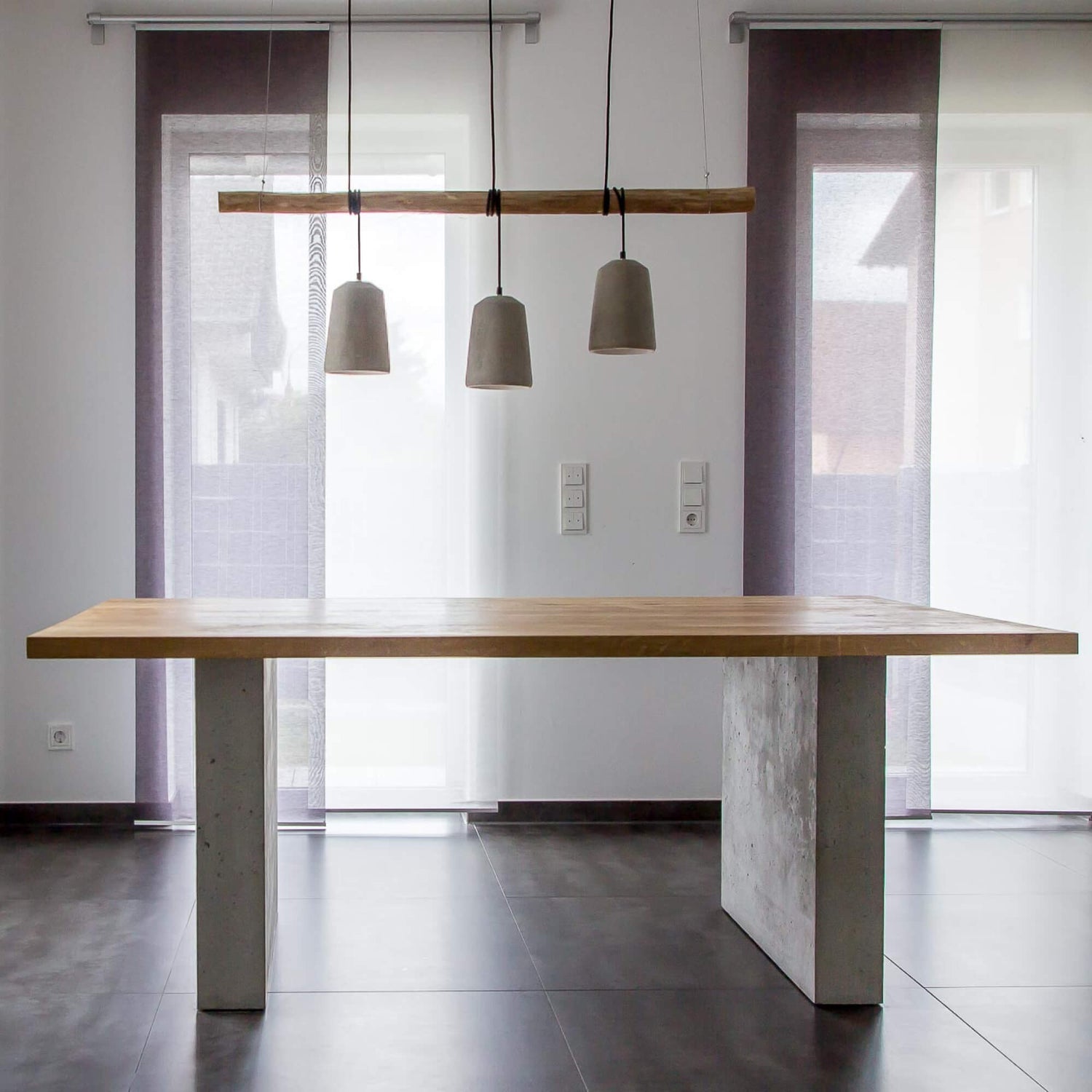 A real eye catcher
From the dark and noble anthracite to the timeless gray to the bright and friendly light gray and white - you have the choice with us! Our LILLI dining table not only impresses with its simple shape and robust materials, but also with the wide range of color options for the concrete table leg. You have the opportunity to design the piece of furniture exactly according to your wishes and preferences and thus give it your own personal touch.
At your home in 3 months
Individually produced for you
Secure payment
Secure payment and shopping
Thats what our customers say