Hallway set of 4 HAMO (1x oak 1x light gray 2x grey)
Regular price
84,60€
Sale price
69,90€
Save 14,70€
/
Tax included.
Shipping
calculated at checkout.
In stock, ready to ship

Inventory on the way
DHL delivery in 3-4 days with you
---
Hallway set of 4 Magnetic key holder HAMO consisting of:
1x oak
1x light grey
2x grey

HAMO creates order and structure in your hallway in just 3 seconds!
Actually yours could hallway soNice look, but somehow keep flyingkey through the area and the sight annoys you every day?
order in your four walls is important, in yourhallway butmore importantly. Because straightsmall rooms worktidy andclearly structuredmore beautiful.
Your advantages for a clean & modern look in the hallway
✔️ Holds your keychainhandy in place -saves you in the morningtime because you know exactly where your key hangs
✔️ Creates immediatelyorder &structure in your hallway solying around bunch of keys thepast belong
✔️ Give your hallway oneunique look that you think about every dayGo in and out please. Even if visitors come, they staymodern eye-catcher certainly notundetected!
✔️ In only3 seconds assembled. With thestrengthen You save yourself the adhesive padannoying &dusty Drill
Lifetime Guarantee: Withhold Or 100% Money Back
weto guarantee to youmaximum hold! Doesn't the holder stick to yoursWallor yourskeychainnot, you get yoursMoney back!
the strength Magnet holds any keychain up 200 g problem-free.
Quick & easy - installation without drilling
On the back we have one extreme strong adhesive pad appropriate.
It holds the magnet and your keychain fixed on the wall. In only 3 seconds assembled : pull off , press - done .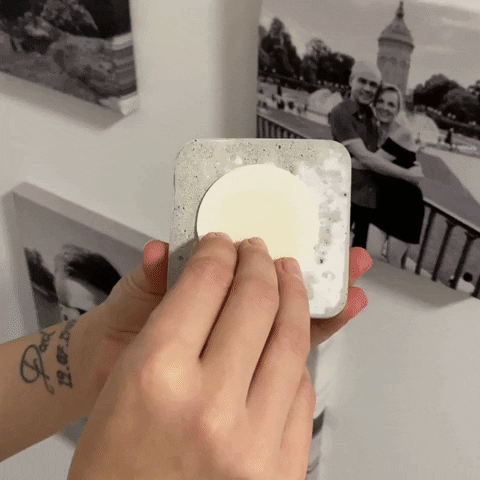 The glued variant is not for you? No problem!
You get from us at the same time a screw set is included . This gives you the freedom to decide whether you glue or drill want.
FREQUENT QUESTIONS
How do I mount the key holders?
You will receive a mounting kit from us. This consists of an adhesive pad and a screw set. So you can decide for yourself whether you want to glue or screw the holder to your wall.
Does the magnet damage the car or chip key?
The magnet has been proven to have no effect whatsoever on electronics such as those installed in car keys, remote controls or other NFC chips. Therefore you can attach it 100% without hesitation.
My key is not magnetic and now?
Some keys are heavily alloyed so that they are not or only weakly magnetic. On the other hand, the usual key ring on the collar is usually not alloyed and is therefore 100% magnetic. Therefore, we recommend that you hang your waistband on the ring.
What if the holder falls off or doesn't hold my keychain?
If the holder doesn't stick to your wall or your bunch of keys, write us a short message via our live chat (icon below left). We take over the return costs and refund your money - without annoying questions or clauses.
The strong magnet easily holds bunches of keys up to 200g.
NOTE: in the event of a fall, we assume no liability for damage caused as a result. We will give you a 100% refund for our magnetic holders. If you are unsure about the glued version, please choose the screwed version.
Holds the glued version on my surface?
Our strong adhesive pads are from the premium brand "3M". They stick to almost all surfaces such as plaster, woodchip wallpaper and many others.
Can I get the adhesive pad off the wall without leaving any residue??
Our adhesive pads are designed for maximum hold. This can leave residues when removing. However, if you want to place it again, you can simply order our replacement adhesive pad here:Replacement adhesive pad HAMO
What material are the key holders made of??
You have the choice between 3 different ones shades of grey , which from our Bestolz concrete consist and 3 different types of wood , which ones solid wood are made. All holders are elaborately made with lots of love manual work manufactured.
Where can I find the input field for the discount code?
Put your desired products in the shopping cart, click on the button "SECURE TO CHECKOUT", then you will get to the order overview. There you will find the "Summary & discount code" tab at the top, which will take you to the code entry field.
product details
Dimensions: 75mm x 75mm x 25mm
Weight: 120g
Color combination: 1x oak 1x light gray 2x grey
Material: special concreteBestolz concrete with sealed surface, oiled oak
If you have any questions, comments or requests, please contact us!!

How to reach us:

e-mail :kontakt@betolz.com
live chat : Via the chat icon on the bottom left
contact form : On our contact pageContact
If our product does not meet your expectations, you can make use of our money-back guarantee within the first 30 days. Without annoying queries or clauses. All information about returns can be found on our returns page in the footer menu under"Returns"