Magnetic key holder HAMO
Regular price

25,90€

inkl. MwSt.

Sale price

25,90€

inkl. MwSt.
At your home in 1-3 working days
Free shipping from 50€ (DE/AT)
Eye catching design
Handmade in Germany
DAS KÖNNTE DIR AUCH GEFALLEN
description
🔳 30-day free trial, money-back guarantee

🔳 extra strong magnet, holds the heaviest bunch of keys
🔳 assembled in 3 seconds,no dusty drilling
🔳 guaranteed to hold on any standard key ring
🔳 Suitable for car keys & radio remote controls
HAMO creates order and structure in your hallway in just 3 seconds!
Actually yours could corridor so Nice look, but somehow keep flying key through the area and the sight annoys you every day?
order in your four walls is important, in your corridor but more importantly. Because straight small rooms work tidy and clearly structured more beautiful.
Clean & minimalist look in your hallway
✔️ Holds your keychain handy in place - saves you in the morning Time because you know exactly where your key hangs

✔️ Creates immediately order & structure in your hallway so lying around bunch of keys the past belong
✔️ Give your hallway one unique look that you think about every day Go in and out please. Even if visitors come, they stay modern eye-catcher certainly not undetected!
✔️ In only 3 seconds assembled. With the strengthen You save yourself the adhesive pad annoying & dusty Drill
Our Promise: Strongest Hold Or Your Money Back!
we to guarantee to you maximum hold ! Doesn't the holder stick to yours Wall or yours keychain not, you get yours Money back !
the strength Magnet holds itself heavy keychains up 200 g problem-free.
Quick & easy - installation without drilling
On the back we have one extreme strong adhesive pad appropriate.
It holds the magnet and your keychain fixed on the wall. In only 3 seconds assembled : pull off , press - finished .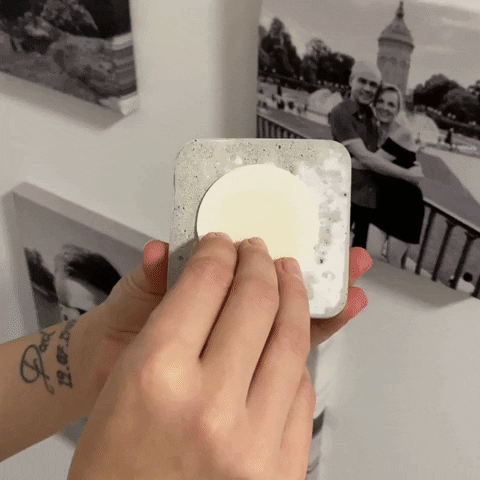 The glued variant is not for you? No problem!
You get from us at the same time a screw set is included . This gives you the freedom to decide whether you glue or drill want.
product info
materials
concrete variant:

 

high-strength, fine-pored design concrete

Wood variant: high-quality solid wood, oiled
product details
Dimensions (L x W x H): 7.5cm x 7.5cm x 2.5cm
Weight per piece: 120g
scope of delivery
Design key organizer HAMO

Mounting set for gluing and drilling

assembly Instructions
FAQs - frequently asked questionsn

What if HAMO doesn't fit in with me?
You already have HAMO on the wall but you realize a few days later that you don't like it as much as you thought. No problem! Simply send HAMO back to us within 30 days free of charge and you will get your money back..
How is HAMO installed?
An extremely strong adhesive pad is attached to the back. Pull off, press on, done.

When pressed, they adapt to the surface and thus guarantee a rock-solid connection with your wall.

They are ideally suited for substrates such as woodchip wallpaper, plaster and all standard wallpaper.
You want to bring out the craftsman in you and screw No problem! We will provide you with a complete assembly set including screws & dowels + assembly instructions..

Keeps the sticky pad on my wall?
HAMO stops with you or you get your money back! The strong adhesive pad is ideal for substrates such as woodchip wallpaper, plaster and all standard wallpaper. If it doesn't stick with you, you have the option of sending HAMO back to us free of charge within 30 days of receipt of the product. Here you goguarantee
Does that hold my key??
Hang your keychain from your key or the usual metal ring. The strong magnet easily holds a weight of 200g (which already corresponds to a heavy waistband). If your bunch of keys doesn't stay with you, you can send HAMO back to us free of charge within 30 days.
Is the magnet suitable for my car key??
The magnet has been proven to have no effect whatsoever on the type of electronics used in car keys, remote controls or other NFC chips. So you can attach it without hesitation.
How can I relocate HAMO again??
You want to place HAMO somewhere else? No problem! Simply use our replacement adhesive padd here
Guaranteed hold

The extra strong magnet easily holds even heavy bunches of keys up to 200g. If it doesn't last, you get your money back!

Easy construction

Mounted in just 3 seconds without drilling. The extremely strong adhesive pad on the back keeps the magnet and your bunch of keys firmly on the wall. Pull off, press on - done!

Universal functionality

Our HAMO key holder is not only suitable for your key ring, but also for your radio remote controls. So you have everything ready to hand in one place and save time and searching.
Free shipping from 50€ (D&AT)
Insured shipping with DHL
At your home in 1-3 working days
Secure payment
Secure payment and shopping
Thats what our customers say